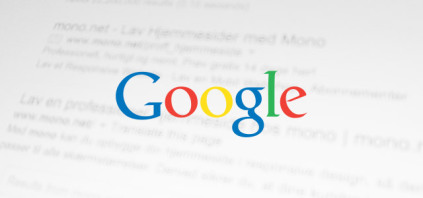 Date: 12.03.2015
Google demands responsive design April 21, 2015
Time is up - if your website is not yet mobile optimized, now is your chance to get it done if you don't want to lose your spot in Google's mobile search results. From the 21st of April 2015, Google is changing its mobile search algorithm to favor websites that are optimized for mobile viewing, e.g. websites with responsive design. This means that non-mobile friendly websites will be surpassed by mobile-friendly sites when searching from a smart phone or tablet.
We've said it all before, but now it's official. It is essential to make a move to responsive design to ensure you won't lose website traffic and thus potential new business. Luckily, this is easily done with Mono!
Your ranking on Google depends on responsive design
---
According to Google, it is important that search results done on mobile devices are as relevant as possible no matter where you are and when you search. With more and more people using mobile devices to search, Google's algorithm needs to adapt to accommodate the changing consumer behavior. This is ultimately what's behind the algorithm update as read on the Google Webmaster blog, More mobile-friendly websites in search results.
In other words, search results based on searches made from a mobile device will to a higher degree show responsive websites than non-responsive websites. So if your competitors' have mobile-friendly websites and you don't you shouldn't be surprised to find your site way down the search results, costing you not only traffic but also business!
It is rare that Google is this clear and proactive about changes in their algorithms. Releases like Panda and Penguin came without warning but they also targeted 'grey' and black hat SEO practices. This time around, Google is giviing all webmasters fair warning, underlining the importance of accepting and acting on this eminent change. It's also a sign that it should be considered as important as other bread and butter SEO tactics such as use of keywords, good links, site usability and technical SEO.
Search on mobile is popular
---
Your website will soon be in trouble if it does not have responsive design, which means that you can expect a drop in website traffic. But how much exactly? Let's have a look at the numbers:
80% of internet users use a smartphone to access the internet
47% of internet users use a tablet to access the internet
The number of mobile searches surpassed desktop searches in 2014
Website traffic from smarphones has grown 62% since 2014
42% of all US organic traffic comes from mobile devices
These numbers clearly demonstrate the tendency to use mobile devices to search online has reached a significant volume and is growing. So, if your website is not mobile friendly by April 21st, you will potentially miss a lot of traffic.

Sources: eMarketer, SmartInsights, and MERKLE | RKG
Can Google find your website April 21st?
---
You can easily test if your website is mobile friendly at Google Developers, where you will also get recommendations to what you can do to improve the user experience on your website to mobile. If you get a green light from Google's test, there is also a good chance that you will experience an increase in traffic once the algorithm change is activates as many of your competitors likely don't have responsive sites yet. Should the test prove your website non-mobile friendly, help isn't far away.
When you create a website with Mono you are guaranteed a responsive website that is ready for Google's change. Get started with a 14 day free trial with Mono.
Already have a Mono site that is not yet responsive? Read how to easily convert to responsive design in this article.